Miner's Ball is Friday
This Friday is the Crested Butte Mountain Heritage Museum's third annual Miner's Ball. The event will take place at the historic Tony's Conoco. The evening will start at 6 p.m. with appetizers, a cash bar, piano music and local actors preforming living history amongst our exhibits. Dinner is being served about 7:30. Then get ready to polka with Crested Butte's favorite, Pete Dunda. Tickets are $75 per person. Stop by the museum or call 349-1880 to purchase tickets. Historic costumes highly encouraged!
Quick Congrats:
Congratulations go out to Jennifer Glick and Kelly Brown who were married in Austin, Texas February 12.
Save the date for 39th Annual Red Lady Ball
High Country Conservation Advocates will present the 39th Annual Red Lady Salvation Ball on Saturday, March 12 at the Eldo Brewpub in Crested Butte, featuring Euforquestra. Mark your calendars to get your red on and support the continued efforts to Save Red Lady.  For over a decade, Euforquestra has been igniting dance floors across the country with their ever-evolving sound that has been influenced by music from all over the world, with an emphasis on funk, pocket and groove. This year's ball will start at 7:30 p.m. featuring a happy hour with appetizers, silent auction, and live acoustic music by Tyler Lucas and Katherine Taylor. Then, at 9 p.m. put on your dancing shoes as Euforquestra takes center stage. The crowning of the new Red Lady will take place at 10:30. For more information and to purchase your ticket, visit hccacb.org/events.
Gunnison Business Women present a healing event
A healing event—Interact, Engage, Learn, and Ask—will take place February 27 from 10 a.m. to 2 p.m. at the Fred Field Center, with table presenters and lectures,  natural healing options and self-care for women. For more information, contact Gunnison Business Women at (970) 275-0323.
Novel tea selects H is for Hawk
Old Rock Library's Novel Tea book group has chosen H is for Hawk by Helen Macdonald to discuss for March. An instant New York Times bestseller and award-winning sensation, Helen Macdonald's story of adopting and raising one of nature's most vicious predators has soared into the hearts of millions of readers worldwide. Fierce and feral, her goshawk Mabel's temperament mirrors Helen's own state of grief after her father's death, and together raptor and human "discover the pain and beauty of being alive" (People). Reserve a copy of H is for Hawk from the library soon and then join us for discussion on Thursday, March 24 at 2 p.m. at the library. All are welcome. Sponsored by the Crested Butte Friends of the Library.
Birthdays:
February 25- Candace Targos, Jessie Dean, Jim Herndon
February 26- , Donna O'Connor, Bob Giannone, Maggie Nunn, Tiffany Deutsch, Caleb Hash
February 27- Colin Drake, Madeline Derusseau, Tiffany Burgess, Ben Vulich
February 28- Carol Kastning, Winnie Haver, Lilah Young
February 29- Jefferson Lewis
March 1- Dawne Belloise, Bethany Cloud, Liz Sanderson, Don Cook, Kerry Young, Pete McCurrach
March 2- Heidi Sherratt, Jim Lohr, Elke Wheeler
Cameos: Why do you Move the butte?

I like to shake what my momma gave me.
Lauren Echevarria

A little party never killed nobody!
Julia Nania

I like to arouse people with laughter by being a sexy clown.
Chaz Boudoir

Because dancing is my fountain of youth.
Joyce Rossiter

Fishnets, corsets, and bloomers!
Brian Pierson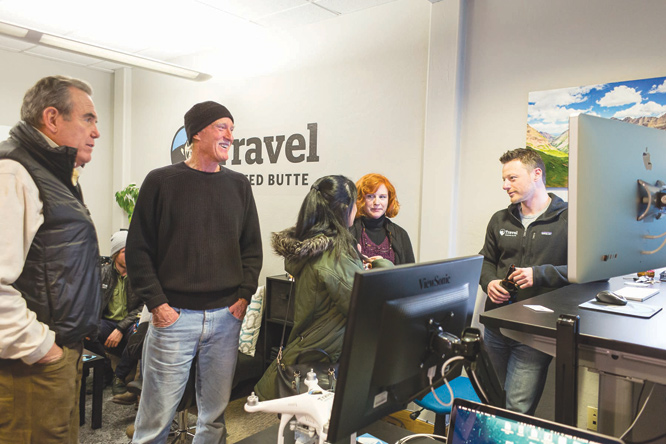 AFTER HOURS:  Travel Crested Butte hosted a Chamber After Hours event on Thursday, February 18.  photo by Lydia Stern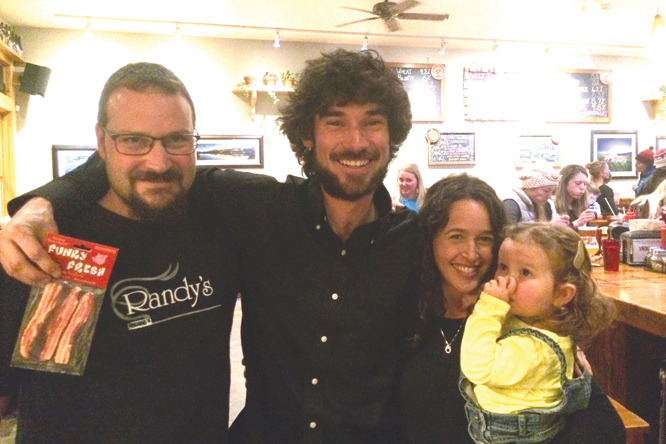 SCHOLARSHIP WINNER:  Dustin Eldridge (middle) was awarded the fourth annual Knox Frank Scholarship for Avalanche Awareness and Education. Brian, Jamie and Rivkah Schneider awarded him with an AVY 2 course plus several other goodies. Thanks to Irwin Mountain Guides, Brick Oven Pizzeria, Gas Café, Crested Butte Nordic and the Knox Scholarship Committee for keeping the Knox spirit alive!  courtesy photo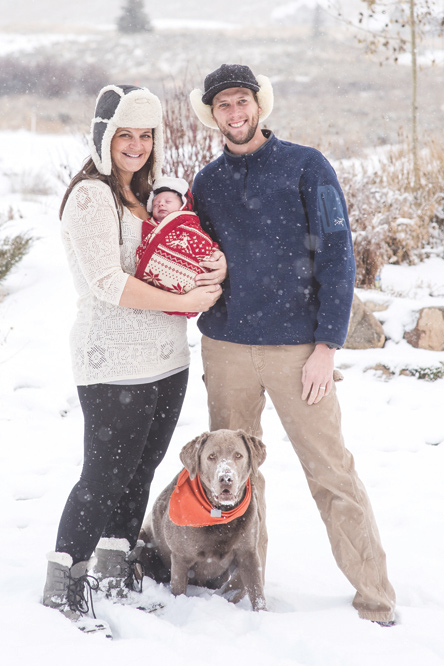 CONGRATULATIONS:  Owen John Erickson was born to Mollye and Jeremy, joining the family with furry sibling Murph, on November 10, 2015 weighing 6 lbs. 5 oz. and measuring 18.5 inches.  courtesy photo