"Number six was the charm"
by Than Acuff
It wasn't local Nordic skier Katie Meyer's first trip to the Nordic World Championships but it was her first trip onto the podium. She collected three medals at the 2016 Masters World Cup in Vuokatti, Finland last week.
Meyer picked up Nordic skiing in her 40s and took to it, joining the Crested Butte Nordic community when she and her husband, John, moved to Crested Butte in 2009. She's made it to the world championships five times before and posted numerous top-10 results, but it wasn't until this year that she broke through to the top three.
"I had been fourth place four or five times," Meyer explained. "Number six was the charm."
Meyer credits her success with a Nordic Master's training program put together by Nordic skier Murray Banks. Meyer joined the group for training and found herself spending several sessions matching wits and speed with the men in the group.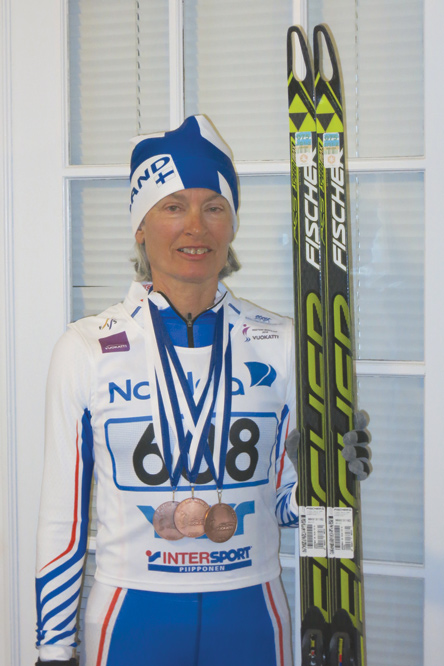 "I think it was the training group," Meyer said. "I was training a lot with the guys, especially on the downhills, and that got me a little bit more confident on my skis."
The world championships are intense, with 1,000 skiers, ages 30 to 88, competing in four races over six days. Meyer lined up in the 55 to 59 age class and was set on breaking into the top three this year, having competed against several of the same women the past couple of years.
"I knew who I had to beat to get third so I was keying on her," Meyer said.
Meyer was denied her first chance at a podium finish in the opening 15-kilometer freestyle race, coming in fourth place once again, but the near-miss merely fueled her fire for the next race, a 10-kilometer freestyle race.
"I decided to go for broke," Meyer said.
The plan worked. Meyer set out at a furious pace and carried her momentum to a third-place finish, earning her first bronze medal.
"I skied all-out for the first five kilometers and held on for the final five kilometers," Meyer explained. "It hurt but I hung in there."
Meyer was then picked as part of the U.S. team for the 4×5-kilometer relay race. The first two legs are five-kilometer classic with the last two legs five-kilometer skate. Meyer skied one of the skate legs and helped lead the team to a third place finish for her second trip onto the podium.
Meyer closed out the world championships in the 30-kilometer freestyle race and surprised herself when she skied to another third-place finish for her third bronze medal in four races.
"It's a long race so I skied much more conservatively," Meyer said.
She was sitting in fourth place for most of the race but made her move in the final five kilometers to take over third place, and she never looked back.
"I wasn't expecting to do as well as I did," Meyer said. "There was a big downhill in the last five kilometers and I passed [the third place racer] on the downhill and she couldn't get me back after that. Murray had us working a lot on the downhills and that paid off big-time."
In the end Meyer racked up 60 kilometers of racing over six days, bringing home three pieces of world championship hardware. She's 59 years young and will be bumping up to the next age class next year and is now planning her title bid, with Murray leading the charge.
"Gotta start training for next year," Meyer said. "Murray and I are already talking about what to do."