Season finale – Pond Skimming and Flaushinking
It is the last weekend of the ski season and the weather looks like it will be ideal for Saturday and Sunday. Saturday's end of the season activities includes the afternoon Slush Huck/Pond Skim and every participant will be glad to see the sun shining. It is also the weekend of the 48th annual Flauschink. The Coronation Ball is Friday at Kochevar's. The parade is Saturday at 11 a.m. and they'll be partying all day Sunday next to the Twister Lift. Have some fun this weekend.
Dine out on April 5 and support the CBCS Enrichment Program 
The Secret Stash has generously offered to donate 20% of your evening food bill on Tuesday, April 5 to support the many after school clubs and programs offered by the CBCS Enrichment Program. The Enrichment Program relies on donations and grants in order to offer and fund the following free after school clubs  – Art, Computer Coding, Chess, DIY Projects, Drama, Illustrated Novel, Legos, Spanish, Yoga and Youth Symphony. This is a fun and easy way to support a great program! Just tell your server you are dining out to support the Enrichment Program. Questions? Contact Jill van Tiel at jill@vantiel.com
Chodounsky wins National title
Locally raised alpine ski racer David Chodounsky won his fourth National title in the slalom at the Nature Valley U.S. Alpine Championships in Sun Valley, Idaho last week. Chodounsky is currently ranked in the top 15 in the world in slalom.
Telluride's Intergalactic Burlesque is Friday night
Sexy, funny, daring and delightfully scandalous, the Telluride Theatre's House of Shimmy Shake is back, bringing its sell-out Burlesque to Crested Butte with this year's theme "Intergalactic Burlesque. Today's Neo-Burlesque kicked off in New York and Los Angeles with a cult following in the 1990s, full of nostalgia for the historic spectacle, focusing on the self-expression of the performer and the art of the tease. Come and let the women of Telluride Burlesque seduce you Friday at the Crested Butte Center for the Arts! Open to ages 18 and up.
An evening of local musicians and writers: Friday, April 8.
Also at the Center, our local musicians (and writers!) night—Syllables and Sound—is totally full for performers! Come support the creative cornucopia of the audio arts by simply showing up as an audience member. It's totally free!
Life drawing sessions at GAC
Are you looking for that perfect opportunity to dust off your drawing tools and find a community of drawers? Artists of all experience levels are invited to join these single-day, live nude model drawing sessions at the Gunnison Arts Center. Session #2 will be Friday, April 8 from 6 to 8:30 p.m. Class is for from four to 15 students and will be in the GAC Black Box Theater. And in that realm – The Gunnison Arts Center is looking for a male model to pose nude for the one-day Life Drawing Session on Friday, April 8. You will make $18 per hour. Call Angel Metcalf at (970) 641-4029 if interested. No experience is necessary. Models must be over age 18.
Road to the Open plays Thursday, March 31 at 7 p.m.
The film, Road to the Open, by local filmmaker Cole Claassen, is a quirky comedy about a friend who helps his best friend and tennis partner out of a desperate rut in life through a long shot attempt at an international tournament. Doors at the Center for the Arts open at 6:30 p.m. Proceeds from this event go to Young Life and the Crested Butte Film Festival.
Birthdays:
March 31- Lynn Moore, Deadhead Ed, Mark Malcuit, Andy Newsom
April 1-Brendan Starr, Jack Roman, Elijah Klun, Benjamin Swift, Kathie Gruskin
April 2- Rachel Potoker, Suzy Coykendall, Bill Wheeler, Debbie Alpern
April 3- Kelly McGuire, Jess Towns
April 4- Noah Ostlund, Jet McGuire
April 5- Jayde Taylor Wilderson, Morgan Moss, Kirk Amster
April 6- Julie Walters, Aine Falter
Cameos: How would you take down ISIS?

I'd keep going…even when they said their safe word.
Sandra Vanheevenhoven

A FULL FRONTAL ASSAULT WITH EXTREME PREJUDICIAL MALEVOLENCE
Rob Halford

Isis so high right now I just couldn't say.
Randy Jackwhack

With Deez Nuts.
Dick Torkel

Back in WWII we didn't ask how, we just did, you pansy.
Capt. Bert Honeycutt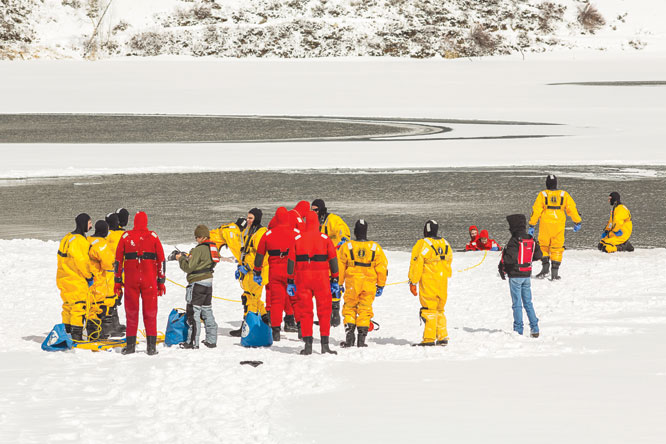 ICE RESCUE TRAINING:  CBFPD hosted the second Annual Ice Rescue Certification Course. CBFPD would like to thank Skyland Metropolitan District for allowing the use of Lake Grant along with Brandon Hallock and Melissa Post of Curecanti National Recreation Area for instructing the course.  With newly certified ice rescue technicians, CBFPD would like to still remind the public to be aware of thinning ice as temperatures get warmer and it's important to take safety precautions to reduce the risk of falling through the ice.      photo by Lydia Stern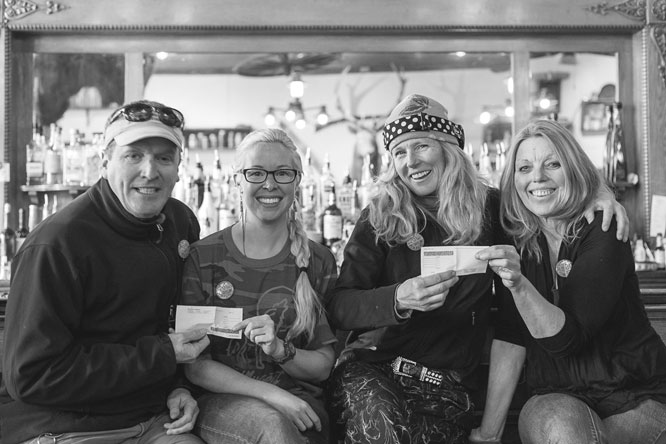 DRESS TO IMPRESS:  Members of the Flauschink Committee, Ted Bosler and Sherrie Vandervoort, presented checks to Andrea Rybarz for creating the royal capes and to Anette Akselsen for being the royal milner and creating crowns to be presented to the 2016 Flauschink royalty.       photo by Lydia Stern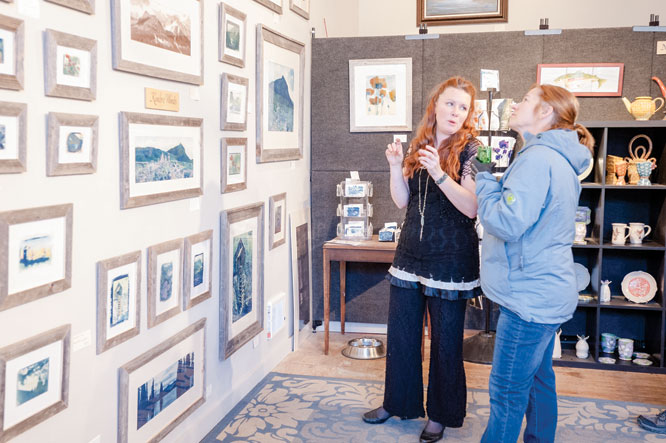 ART: Great art, apps and wine were available as part of the monthly Art Walk held last Saturday.      photo by Petar Dopchev