It's over…let the new season begin
That was a great closing day for the ski area last Sunday and now thoughts turn to spring. Biking at Hartman Rocks, a snowmobile event on the ski hill and trips south that will empty out the town. Enjoy the down time…summer is not far away.
Syllables & Sound – An evening of local musicians and writers this Friday
The CB Center for the Arts musician's (and writers!) night – Syllables & Sound – is totally full for performers! The Center Stage welcomes Mike Jackowski, Missy Chamberland, Shannon Stichter, Allen Smith, Steve Kurtz, Jesse Irons and Kat Bernier. Come support the creative cornucopia of the audio arts by simply showing up as an audience member. It's totally free! The cash bar will be open, which is not free – but nearly so – and delightful all the same. Celebrate the creativity of the Gunnison Valley this Friday. It starts at 7 p.m.
Great boating will soon return to Blue Mesa 
Boating at Blue Mesa Reservoir is right around the corner. Once the reservoir ice breaks up and the Lake Fork ramp is clear enough for safe launching, the ramp will open from 6:30 a.m. to 4 p.m. daily. The Elk Creek ramp usually follows a few days later. Aquatic Invasive Species (AIS) inspections are required before launch and after boating whenever ramps are open. Starting Thursday, April 21, Elk Creek and Lake Fork inspection station hours will expand to 6 a.m. to 8 p.m. The Iola ramp will open for the season on Thursday, May 5. The Steven's Creek ramp will open on Thursday, May 12, and just in time for Memorial Day weekend, the Ponderosa ramp will open on Thursday, May 26. All of these dates depend on reservoir water levels high enough to allow safe launching and retrieval. Watch for updates on ramp status and water levels as the season progresses.
Passover Seder at Western State Colorado University
B'nai Butte will hold a Passover dinner Sunday, April 24 at 5 p.m., in the University Center Ballroom at WSCU. This is a community Seder and all are invited. It's a special occasion as it is a first for the town of Gunnison. The Seder will be led by Rabbi-Cantor Robbi Sherwin of Congregation B'nai Butte in Crested Butte and will contain traditional and contemporary songs and prayers. The meal will be prepared by chef Jeffrey Cooper of WSCU and will include matzah ball soup, gefilte fish, chicken and lamb, a vegan entree, potato kugel, roasted veggies and special desserts. Contact chef Cooper if you have any questions, and to reserve your space. Please RSVP by April 15. Jeffrey.Cooper2@sodexo.com, 970-943-2432 office.
Hey high school students…study opportunity
Late night study hours for high school students this month will be at Old Rock Library from 7-10 p.m., Wednesday, April 20. This is a free event, co-sponsored by Town of Crested Butte and Crested Butte Friends of the Library. Snacks, hot and cold caffeinated drinks will be provided, as well as use of WiFi, computers (desk or laptop), black and white printing, scanning and…prizes(!) Quiet atmosphere is encouraged and high school students only are welcome.
Save the CB DEVO date
Are you interested in riding on the amazing Crested Butte DEVO high school team this season? If so, please stop by the Elk Mountain Lodge on Thursday, April 28 from 5:30-6:30 p.m. to meet head coach Torrey Carroll as well as other team members and coaches. This team last year placed third in a very competitive conference with seven riders from CB Devo qualifying for the State Championships. Once at the State Championships, these strong riders earned a fifth place finish out of 37 teams in Division 2. We are so excited and have a ton of momentum going into the upcoming season! There will be snacks and refreshments…hope to see you there!
Birthdays:
April 7- Mary Picciano, John Yankowich, Simon Winter, Michael Hensley, Leah Fischer, Mike Knoll
April 8- Jacque Quint, Ali McGuire, Pete Schewe, Lizzy Plotkin
April 9- Nicole Reycraft, Randog Koontz, Jessica Frankman, Hannah Godwin
April 10- Janna Hansen, Joshua "Swayze" Adam, Joey Wheeler
April 11- Brad Cadwell, Ed Chase, Hilt Freeman, Brad Crosby, Bailey Hosier, Hilt Freeman, Suzanne Pierson
April 12- Lynda Jackson, Les Choy, Steve Hecker, Stosh Crawford, Pete Rinaldi, Mia Ukasick, Aaron Webb, Woody Sherwood, Kevin McDonough, Lyndsey Siera Gross, Mary Quinn
April 13- Barb Peters, Erika Roseberry, Paul Holder, Bobbie Reinhardt, Britni Werner, Danielle Gillman

You close with a bang!
Tom Flawn-Chopp

With a cocktail and a good outfit
Katherine Smyth

With a naked ski day
Justin Williams

Slope side with a beer
Bryan Morse

You turn off the lifts, I guess
Allen Smith
CONGRATULATIONS:  Brendan, Corinne, Ruby and Juliet would like to introduce you to their newest family member, Wyatt Riley McKeever. He was born at home on December 4, 2014, weighing 8 lbs. 2oz.  courtesy photo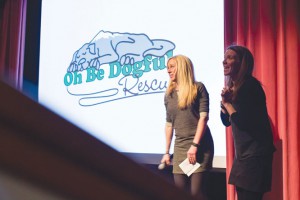 DOGGIE DOCUMENTARY:  Oh Be Dogful hosted a fundraising film screening of The Champions documentary on Wednesday, March 30 at the Center for the Arts.  photo by Lydia Stern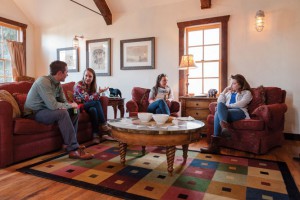 COCKTAILS AFTER WORK: Vacasa hosted the Chamber After Hours last week at its Elk Avenue location. photo by Petar Dopchev