Did your kid take a cool photograph this summer?
Are you a young photographer? The Crested Butte News is holding a Kids' Nature Photo Contest during the month of July. We want to see your favorite nature photographs of Crested Butte that you're taking this summer. There is no shortage of subjects to shoot, so share with us something special. There will be two categories: ages 3 to 8 and ages 9 to 13. Email us one favorite image and a caption, along with your name and how old you are to melissa@crestedbuttenews.com. The top photos will be published in the August 5 issue of the Crested Butte News!
Art opportunities
There is a lot going on these days in Crested Butte but here's a reminder about a few artist opening receptions that everyone is invited to… Judith Cassel-Mamet: "River Whispers."  Her artist reception is this Friday, July 22 from 5:30 – 7:30 p.m. It takes place at the Piper Gallery in the Center for the Arts. Jeremy Armstrong: "Fire and Ice" has an artist reception on Friday, July 29 from 7:30 – 9:30 p.m. That is also at the the Piper Gallery. And Suzanne Pierson & Laura Cooper Elm has a show entitled "Metaphors of Summer." The show runs July 11 – August 21. That show is being held at the Art Studio Gallery on Elk Avenue.
40 years of B'nai Butte
The 40th anniversary of B'nai Butte is being celebrated this weekend. A dinner is being held Friday on Red Mountain Ranch. If you would like to participate, call 349-6766.
Earth acupuncturist coming back to valley 
Karen Rice King is bringing "earth acupuncture" back to the Gunnison Valley from July 30 to August 10. This technique is also known as geobiology or geomancing, a way to mitigate the negative effects of environmental and manmade energy fields on your land and in your home. This includes radon, toxic water and minerals, electrical transformers, microwaves, and cell towers. Geopathic zones and Hartmann stress lines have been found to provoke sleep disorders, headaches, pain, ADHD, anxiety, allergies, depression, MS, and cancer. The studies show that children are especially sensitive to these harmful influences and that pets will take on symptoms by sleeping on these lines, presumably to protect the humans in the house. Karen will be in the valley for 12 days. To schedule an appointment to assess and/or clear your property for pollution, water quality, wireless technologies, or personal health, please call (303) 810-6486 or email karen@karenriceking.com.
Local singer/songwriters' concert in Gunnison
Experience a one-of-a-kind concert as five local singer-songwriters take the stage to combine their stories, inspiration, music and talent in the Gunnison Arts Center's unique Black Box Theatre on Friday, July 22. Doors open at 7 p.m. and the concert begins at 7:30 p.m. The concert features Chris Coady, Bill Dowell, Missy Chamberlain and Evelyn Roper. Tickets are $15 general admission. Purchase tickets at 102 S. Main Street, gunnisonartscenter.org or call (970) 641-4029.
Birthdays:
July 21- Tom Martin, Maila Olson, Leslie Locklear, Peace Wheeler, Ross Orton, Ashley Harrington
July 22- Lucy Zavala, Walker
Carroll, Lisa D'Arrigo
July 23- Emma Vosburg, Aaron Lypps, Brad Sorock, Denise Duffy, Frank Clause
July 24- Tom Miller
July 25- Kevin Chedd, Kori Caskey,
Dave Moody
July 26- Denise Brazell
July 27- David Owen, Dano
Marshall, Corinna Donovan,
Jerry Smith, Paula Dietrich,
Reggie Masters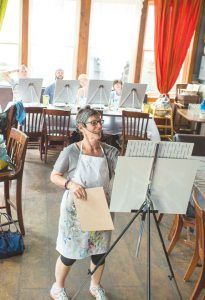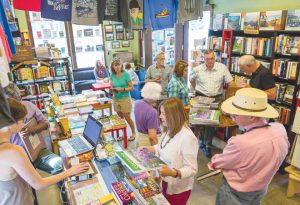 Cameo question: No matter how tiny a house may be, it has to be at least big enough to hold…?