Vinotok is nigh 
Believe it or not Vinotok preparations are starting. If you want to be involved you are more than welcome. But you must go to the volunteer meetings and the first one is August 24 at 5:30 at Rainbow Park. If you have any questions, touch base with Molly Murfee at 349-0947.
Take a ride with the Dustbowl Revival
The Dustbowl Revival is a Venice, Calif.-based eight-piece collective that merges old school bluegrass, gospel, pre-war blues and the hot swing of New Orleans to form a spicy roots cocktail. It's infectious, joyous music—a youthful take on time-worn American traditions. Named "Best Live Band in LA" by the LA Weekly, each Dustbowl performance promises to be a white-knuckle ride through the history of American folk music. You can catch them on Friday, August 21 at the Center for the Arts at 8 p.m.
Help RMBL pull weeds Wednesday
There is a Rocky Mountain Biological Laboratory volunteer weed pulling day on Wednesday, August 19 from 9 a.m. to 1 p.m. Volunteers may also collect some native seed. A free lunch will be served at noon. Meet at the Gothic Visitor's Center at 9 a.m. You can RSVP to sd@rmbl.org. Feel free to stop by for a short time or stay for the whole morning.
Hey Ladies—Ripple Retreat: Creating Art with the Land coming up
This weekend event put on by the CB Center for the Arts starts Saturday, September 5 and runs to Monday, September 7 (Labor Day Weekend). During this luxurious three-day women's art retreat, instructor Ivy Walker leads the group to sites near rivers, in aspen forests, and with views of tall peaks to create works of art as a means to connect with creativity and listen deeply to inspirations from the environment. Using natural materials such as stones, branches, and leaves, and art materials such as paper, charcoal, and thread, the group investigates the surprising revelations and pieces of art brought forth by collaborating artistically with the land and its elements. Works are photographed to make a lasting treasure of time spent creating in the land. On-site discussions weave together art, environmental, psychological and spiritual ideas. An evening program explores historical and contemporary land art. There is a cost for this retreat. Call 349-7487 for more info.
Coloring book signing Friday at Townie Books
Townie Books will host a book signing for Alphabet Menagerie: a Coloring Book for the Inquisitive by local artist Lian Canty on Friday, August 14, from 5 to 7 pm. Alphabet Menagerie: a Coloring Book for the Inquisitive is an abecedarium, meant to inspire you to explore even deeper into language, geography, culture, and natural history presented in this lavishly illustrated alphabet. Each item's description is just a teaser, a tidbit of information about the animal or object in the picture, for which there is so much more to learn.
Birthdays:
August 13– Peter Chase, Rick Gaither, Cea Anderson, Faith Gasparrini, Tina Curvin, Bill Husted
August 14– Mary Kunes, Katie & Maddie Thomas, Rosie Ewert, Aidan Gunderson
August 15– Chris Morgan
August 16– Marc Shellhorn, John Councilman, Jay Leonard, Allen Beck, Ian Hatchett,
August 17– Norm Bardeen, Vicki Shaw, Karl Plambeck
August 18– Deb Hodak, Nick Rayder, Betty Barkman, Joshua Pruett
August 19– Paul Hird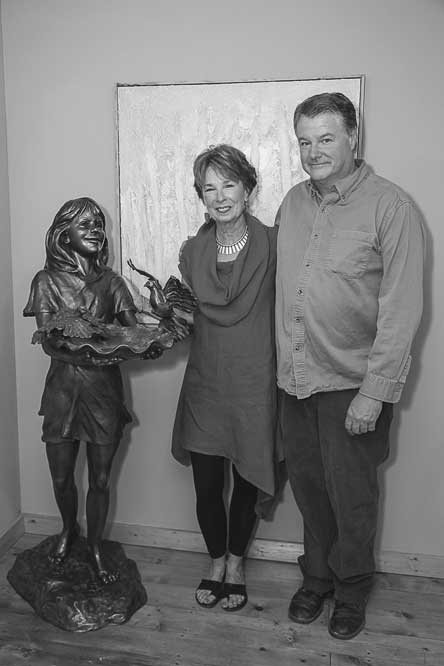 GALLERY OPENING:  Rosalind Cook and Michael Mahoney visited with the community at the River Light Gallery on Friday, July 17.
photo by Lydia Stern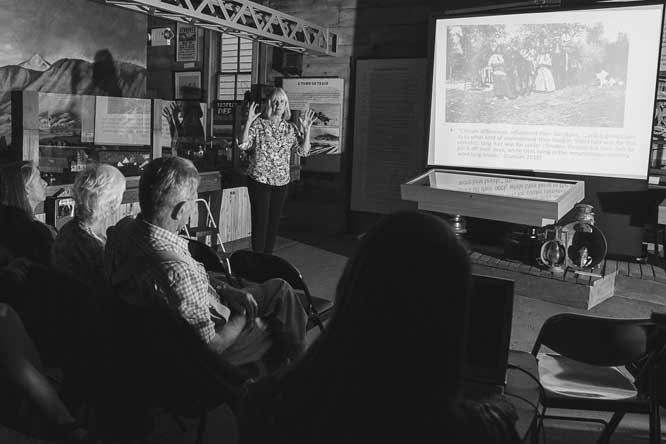 MUSEUM SPEAKER:  Carol Patterson spoke about Clifford Duncan, the Ute Elder, at the CB Mountain Heritage Museum on Thursday, August 6 as part of the museum summer speaker series.      photo by Lydia Stern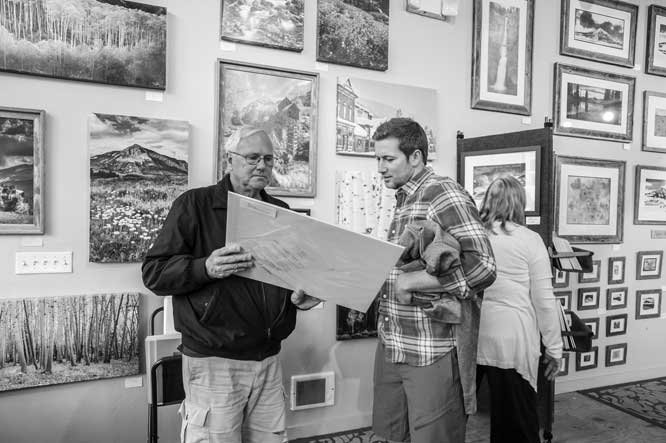 ART HUNTING: Art lovers took advantage of the scavenger hunt that took place in local galleries on Saturday.      photo by Petar Dopchev
CAMEOS: What is your favorite summer activity?

Hiking or going down the river.
Robert Rankin

Expensive beer and cheap women.
Nate Lyles

Backpacking
Nicki Rehberg

Mountain Biking
Jim Rehberg

Pond Skimming
Kevin Adams