Season of hope falls short
by Allen Smith
The Crested Butte Kickers adult soccer team made its way to Telluride to compete in the annual summer, season-ending soccer tournament with big support from sponsor Rachel Brodsky of Brodsky & Associates in Telluride.
The Kickers received an additional push from a duo across the pond, as Sully Desai and Tom Lewis are in Crested Butte to coach youth and joined the Crested Butte team.
The Kickers were jacked for their first game on Saturday Morning when they took on Winter Park. The Kickers started off fast, after a beautiful through ball distributed from Desai as Ian Elder hit a perfect volley near post, beating the goalkeeper. Ian would go on to score a second goal in the second half as the Kickers controlled the tempo of the game.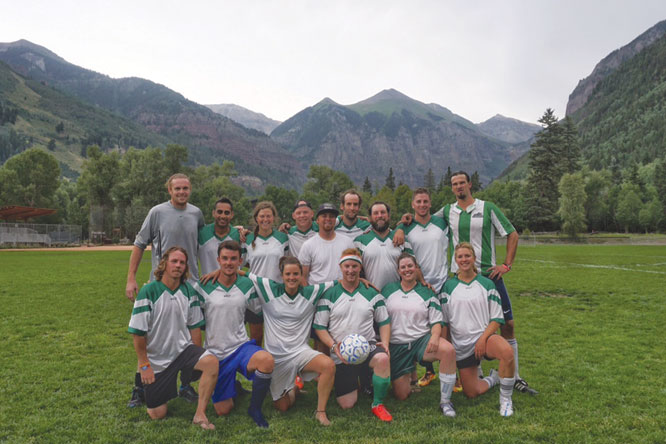 Lewis put Winter Park away when he scored late in the second half to put the Kickers up 3-0. The defense was stellar, led by Allen Smith as they completed the shut out and looked to the second game.
The Kickers played Aspen late Saturday afternoon, but could not keep the momentum up after the first game. After an unfortunate missed foul call that led to an Aspen goal early in the first half, the Kickers tried to capitalize on numerous opportunities, but could not find the back of the net. Late in the second half the Kickers spread the field and tried to create chances late in the game, but an Aspen counter attack proved costly when they put the game out of reach with a 2-0 victory.
Heading into the third game, the Kickers needed a shut out to have a chance of playing in the finals. They started out strong scoring the first goal by Kyle Pendleton, but Glenwood Springs quickly knotted the score back at 1-1 on a beautiful corner kick. The Kickers came back strong and scored a goal by Desai as he cut up the defenders of the other team, putting the Kickers up 2-1 at the half.
Fatigue set in on the Kickers in the second half as Glenwood Springs tied the game off another corner kick with 10 minutes remaining in the second half. Staggered, the Kickers did their best to create chances, but in the end Glenwood Springs scored to put the team up 3-2, just before the whistle blew for the end of the game.
The Kickers were competitive in every game and challenged every opponent they faced and it was a great tournament that the Kickers will look to play in again next year.