"Thirty years ago my older brother, who was ten years old at the time, was trying to get a report on birds written that he'd had three months to write. It was due the next day. We were out at our family cabin in Bolinas, and he was at the kitchen table close to tears, surrounded by binder paper and pencils and unopened books on birds, immobilized by the hugeness of the task ahead. Then my father sat down beside him, put his arm around my brother's shoulder, and said, 'Bird by bird, buddy. Just take it bird by bird.'"
—From the book Bird by Bird: Some Instructions on Writing and Life, by Anne Lamott
Effectively addressing the increasing impact on the local backcountry as visitor numbers rise is not a simple task. But it is an important one. After the sometimes chaotic summer it became evident to almost everyone that the impacts were hurting the very thing that was attracting people here: the beautiful backcountry.
People were literally defecating in the woods. Traffic on the old dirt Gothic Road at times looked like a work commute in Denver. People excited to actually use their four-wheel drive would go off-road and destroy wildflower meadows or RMBL research sites. Trespassing on private property was becoming a regular and annoying occurrence for local ranchers and RMBL. Campsites and fire rings were every 50 feet in spots in July and attitudes were less respectful than we here in the valley are used to.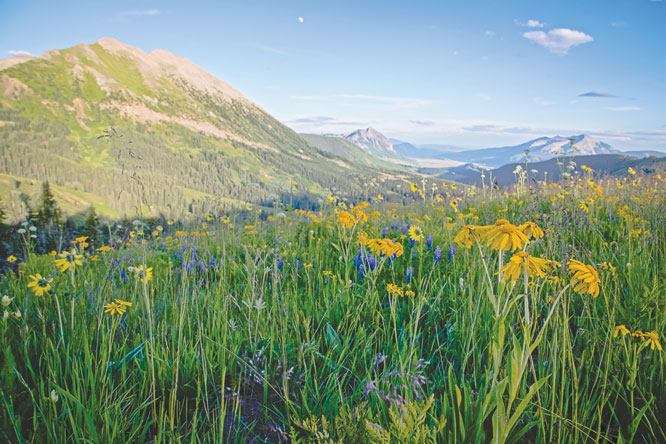 So under the call of the Gunnison County Commissioners and RMBL, local representatives from many organizations including the U.S. Forest Service, the Mountain Express, the municipalities, the sheriff's department, the Tourism Association and the county gathered Tuesday in the heart of the impact area. And while I was originally hoping for a bold, grand solution to the problems we all saw this summer, it was evident that there is no magic wand. But more important, the meeting provided an honest first step toward real action. They are taking a complicated situation bird by bird…
The khaki elephant in the room was the Forest Service. Understaffed and underfunded, they are responsible for a boatload of land in this county. The county stepped up earlier this summer to help fix a deteriorating Forest Service road near the bottom of the 403 trail. The Crested Butte Town Council shook its head when informed the Forest Service backed out of a $500 contribution this summer to help pay for a pit toilet up the Slate River Valley. There is still some angst that the Forest Service wouldn't partner for a public shuttle to the Judd Falls turn-around this past summer.
But on Tuesday, the forest supervisor and the district ranger promised to look at ways to help address the problem. They would prioritize a dispersed camping and summer travel management plan for the area. They would look to see if USFS field personnel could be brought in to help educate and nudge people using the backcountry. While forest supervisor Scott Amentrout indicated that "changing demographics" brought a less respectful client to the area, the fact was it was happening everywhere on public lands and the agency was trying to figure out ways to address the overuse issues.
When it was evident that Gothic Road would not be closed with a major bus system shuttling people up and down the valley like is done at the Maroon Bells near Aspen, people started focusing on smaller bites. They took it one bird at a time.
The Forest Service said it would try to address the camping element before next summer. There was a general understanding of the need for more pit toilets, particularly in places like the West Maroon trailhead. How to pay for and maintain backcountry toilets will need to be worked out. There could be a shuttle to Judd Falls next summer. There could be more official personnel, both federal and local, patrolling the valleys and guiding visitors on where they can and cannot park or drive or camp. There was a call for the Tourism Association to maybe pull back on its promotion of summer activities in the north end of the valley or at least spend some more money to alleviate some of the ramifications it brings through advertising for more tourism. They are already helping to pay for signage that the ranchers appreciate.
Commissioners Paula Swenson and Jonathan Houck noted that perspective matters. While Curecanti and Blue Mesa attract a million visitors a year, Swenson said there is not a crowding issue as it is spread out in terms of space and timing. But July in the upper East River Valley can be elbow-to-elbow or squatter-to-squatter and that is a real issue. Houck pointed out, the people coming here probably don't even realize we consider July a busy month and a potential detriment to the local backcountry. This place is laid back and perfect if you come from the big city and surveys from CBMR and the Forest Service back that up.
There was a group understanding that doing something in one valley could impact another drainage. There needs to be a holistic view with both short-term and long-term goals. But this group understood they needed to do something now to protect the future. Whether it was recreation, research or ranching, the numbers are impinging on the vibe and viability of sustainability. I am confident that this group, led by commissioner Paula Swenson, will end up doing something that counts. It won't be a magic solution that solves every piece of the puzzle but it also won't end up having been just an August chat fest at RMBL.
It is up to all of us living here to not shy away from the issues and there was plenty of conversation concerning the value of using community volunteers to address some of the financial and procedural roadblocks. While the National Forest belongs to all Americans, we are the stewards of this land. Tuesday afternoon in Gothic, a group of local stewards seemed to be on the same page to take steps to protect land we all cherish but is getting pounded. They are taking it one bird at a time—and that appears to be the correct collaborative course.
—Mark Reaman