Free concerts at WSCU this week
As a continuation of last week's Firemen's series concert, this week is the Western Slope Honor Choir Festival. This festival brings 150 students from 30 different Colorado high schools to campus for three days. On Thursday, March 3 at 7:30 p.m. in the Taylor Auditorium, the Western State Colorado University Vocal Music Department will present a concert of choral and solo music. On Saturday, March 5 at 2 p.m. in the Taylor Auditorium the Western Slope Honor Choir Festival concert will take place. Both of these events are free and open to the public.
Writing workshops at Old Rock
Writing workshops continue for four more weeks at the Old Rock Library with writer and writing coach Alissa Johnson. This week, learn how to create vivid characters and next week dig into what it really means to show versus tell. Workshops start at 6:15 p.m. and are free. Call the library at 349-6535 to reserve your spot. Sponsored by Friends of the Library.
Western to host Gunnison Sage Grouse Summit
In an effort to bring together managers, conservationists, researchers, working-group members and other stakeholders affected by the "threatened" listing of the Gunnison sage grouse, Western State Colorado University's environment and sustainability program will host the fourth annual Gunnison Sage Grouse Summit on Western's campus March 9-11. This year's summit, "Science, Management and Collaborative Conservation in a Post-Listing Era," will focus on moving forward with locally informed conservation following the listing of the bird as "threatened" under the Endangered Species Act. Register for the conference by visiting www.western.edu/gsug.
SGM announces 2016 Steve Westhoff Scholarship availability
SGM, a civil engineering, surveying, and consulting firm headquartered in Glenwood Springs, Colo., with six additional offices in Aspen, Gunnison, Grand Junction, Salida, Durango and Meeker, awards up to five scholarships in the amount of $1,000 each to assist aspiring civil engineers and surveyors in pursuit of their studies. The application deadline is Friday, April 1. Go to the SGM website at www.sgm-inc.com for scholarship details and application. 
Kindergarten registration later this month
The Crested Butte Community School will hold this year's kindergarten registration on Thursday, March 31 from 7:30 to 9:30 a.m. in the multi-purpose room. Parents are welcome to attend with or without their children. Parents are asked to bring a birth certificate for their child and their child's immunization records. Additionally, Gunnison County Public Health will be present to provide information regarding current and future immunizations. To enroll in kindergarten for 2016-2017, a child must be five years old on or before September 30, 2016. Please call the CBCS office if you have any questions at (970) 641-7720.
Birthdays:
March 3- Rob Fessendon, Caith Norton
March 4- Francesca Cain, Ann Lara
March 5- Jim Sullivan, Laura Ramos, Kelsey Bigelow, Sophie Hall
March 6- Candy Shepard
March 7- Everett Fillmore, Alexander Dumas, Jonah Moss, Yvon Michel, Adrienne Van Horn
March 8- Carol and Cheryl Connor, Chris Lambro,
Martin Thake, Gracie Murphy, Nikolas Hudson, Adam Freed, Courtney Kopf, Cheryl Henry, Lia Walker
March 9- Jeff Martin, Jerry Heal, Bill Crank, Audrey Lypps, Vicki Rowland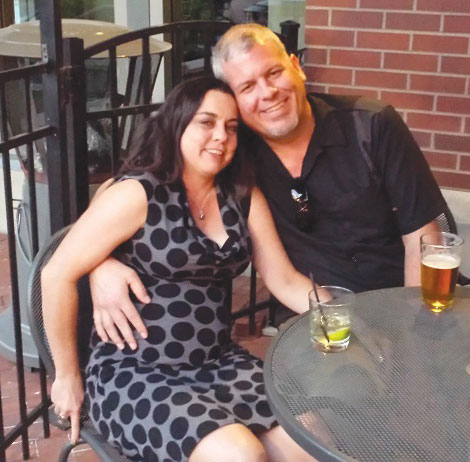 CONGRATULATIONS:  Jennifer Glick and Kelly Brown were married in Austin, Texas on February 12.       courtesy photo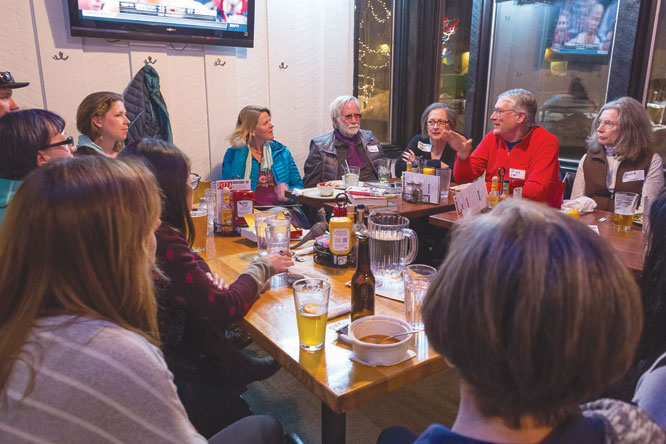 BOOKS-N-BARS:  Readers gathered at the Avalanche to discuss The 100-Year-Old-Man Who Climbed Out the Window and Disappeared on Wednesday, February 24.       photo by Lydia Stern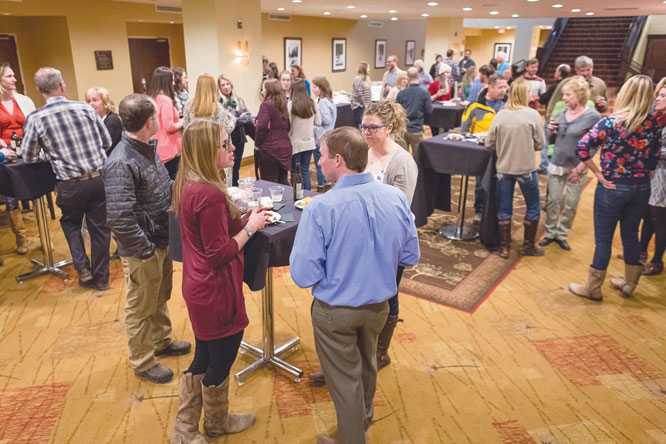 WEDDING GUIDE:  The Crested Butte Wedding Council hosted the Chamber After Hours event at the Elevation Hotel on Thursday, February 25.       photo by Lydia Stern
Cameos: How slushy do you like it?

Whatever is rideable in the backcountry.
Scott LeFevre

Like mash potatoes and sour cream.
Dylan Jessen

Enough that it's sloppy and deep.
Craig Andersen

Depends on the flavor.
Sinclair Fernando Smith

As slushy as it comes.
Amalie Lester